The Prospects of Using an Artificial Underwater Reef in the Maritime Water Area of Georgia
Keywords:
Fishery, Underwater Artificial Reefs, Underwater Ecosystem, Blue Economy
Abstract
The article discusses the importance of using underwater artificial reefs, the current situation, and prospects. The use of underwater artificial reefs has different purposes, such as strengthening fishery resources, population growth of living organisms in the sea, hydrobiological reclamation, development of diving tourism, coastal reinforcement function, etc.
The use of artificial reefs is discussed within the concept of the "Blue Economy". Thus, the Black Sea "blue economy" goal is to preserve, protect, and reap the biodiversity of marine resources. The sea has not an unlimited resource and the anthropogenic factors can significantly reduce or increase the economic benefits of the sea. The prudent management of marine resources and the improvement of the ecological condition of the sea are extremely important for sustainable economic development.
The work discusses the importance of artificial reefs for the ecosystem, the diversity of underwater flora and fauna, and the prospect of increasing its inhabitants. The study's goal is to study the economic effects of artificial reefs, their impact on the environment, durable and easily portable design layout for the depth of the sea. And, the aim is to run the production, placement of the artificial reefs at the coastal waters of Georgia, and promote the establishment of the initiative.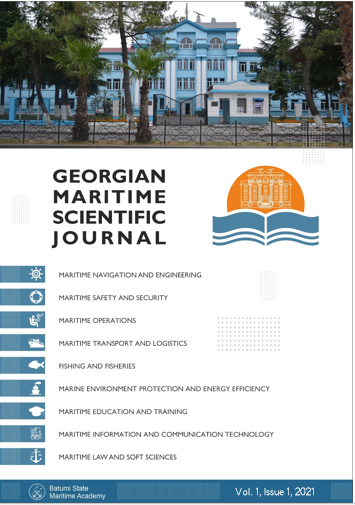 Downloads
How to Cite
Tkhilaishvili, G., & Tchanidze, K. (2021). The Prospects of Using an Artificial Underwater Reef in the Maritime Water Area of Georgia. Georgian Maritime Scientific Journal, 1(1), 48–55. https://doi.org/10.48614/gmsj120212821