Detection a Natural Source of Oil in the South-Eastern Part of Black Sea During Monitoring of Oil Pollution With on European Maritime Safety Agency Satellite Service
Keywords:
Natural Source of Oil, CLEANSEANET System, Oil Slicks, Black Sea
Abstract
The paper deals the presence of a natural source of oil, which is sometimes detected in the southeastern part of the Black Sea as part of the monitoring of oil pollution of the Black Sea using the EMSA (European Maritime Safety Agency) satellite service.
With the collaboration of EMSA CLEANSEANET System and MRCC (Maritime Rescue Coordination Center) of Maritime Agency of Georgia MRCC is regularly receiving data to region possible spills pollution.
The EMSA satellite service offers extensive surveillance of European waters for oil spills by using radar images acquired by Synthetic Aperture Radar (SAR) sensors on polar orbiting satellites. SAR sensors have the capability to detect oil slicks on the sea surface in darkness as well as daylight hours and to see through clouds.
The analysis CleanSeaNet Alert Report possible spills, it's safe to say that we are observing a natural expression of oil on the sea surface, which is formed by the migration of oil hydrocarbons in the sedimentary complex of the southeastern part of the Black Sea, seaward of the city of Poti (Georgia). Source identified based on the analysis of multi-temporal radar satellite imagery.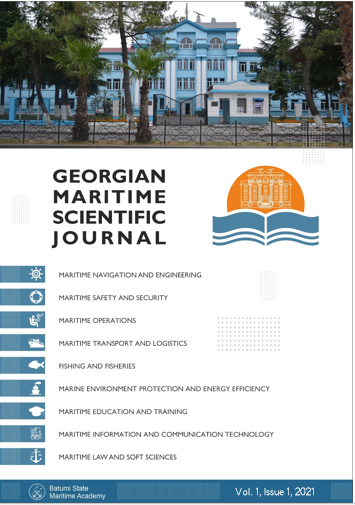 Downloads
How to Cite
Gegenava, A., Kakhidze, A., Gegenava, T., Chokharadze, T., & Babilodze, J. (2021). Detection a Natural Source of Oil in the South-Eastern Part of Black Sea During Monitoring of Oil Pollution With on European Maritime Safety Agency Satellite Service. Georgian Maritime Scientific Journal, 1(1), 140–155. https://doi.org/10.48614/gmsj120212832