Modern vision in the use of liquid cargo operation simulators
Keywords:
Cargo Operation, Simulator, E-cloud
Abstract
The cargo operation planning, the process of implementation is one of the most difficult tasks carried out on liquid cargo vessels. The chief officer's task is to process a huge amount of information, accurately enter data into a special computer, consistently calculate the stages of the work, and finally the most important is to complete the task in the shortest period of time. In the implementation, less attention is paid to the economic use of cargo mechanisms, their wear, and fuel costs.
Despite the recommendations and strategies for the effective management of cargo operations, modern artificial intelligence has not yet fully replaced the mankind. We offer a modern and effective way to solve problems, such as maritime universities and maritime training center simulator classes' students will search the most effective ways of cargo operation. The collaboration among vessel, university and terminal would be distance in the internet cloud, which provides: the ships' crew work schedule reduction, a wide choice of cargo operations plans, selection of the optimal option, energy-saving, only target use of mechanisms, which finally lead to less wear and tear, fuel economy and, consequently reduction of CO2 pollution in the atmosphere. It will also reduce cargo operation time, thus reducing port and terminal fees. More over this principle of operation will increase the number of qualified personnel in the future and will be used in the future for remote control liquid cargo operations on unmanned vessels of future.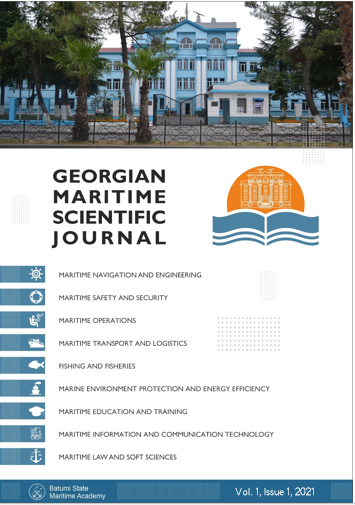 Downloads
How to Cite
Tsetskhladze, A., & Zarbazoia, K. (2021). Modern vision in the use of liquid cargo operation simulators. Georgian Maritime Scientific Journal, 1(1), 162–169. https://doi.org/10.48614/gmsj120212834